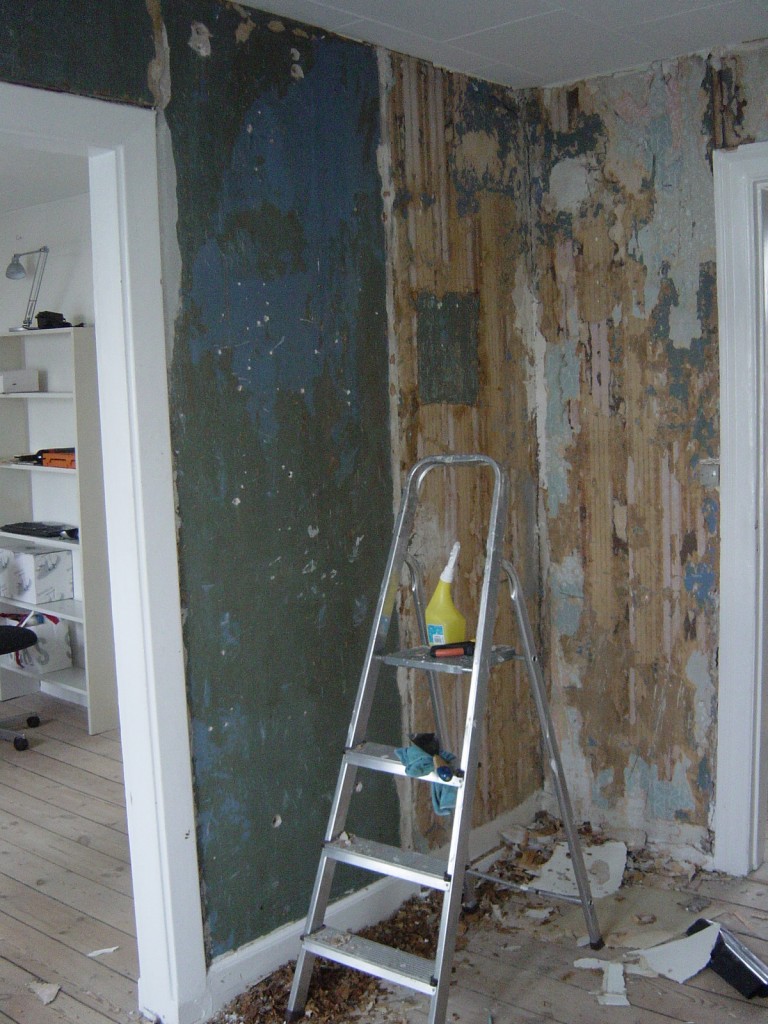 "Shitty new flat. Shitty decorating. Shit. Shit. Shit."
Ramona sat in the corner of the room looking at the mess that was her hall. She loved the fact she'd found a new place and she knew that at the end it would be as beautiful as every other place she had been in.
But she hated the bit in between. She wanted her path to be:
1) Find an apartment
2) See what needs to be done
3)
4) Beautiful place to live.
"Alas."
She found herself thinking of her brother. She was sure that he was a dab hand with a roller. Or his annoyingly enthusiastic personality would keep her from flagging, and idling.
Like she was doing now.
Her face crunched in confusion. She hadn't thought about Steven for ages. Longer than the last time she saw him. She couldn't remember if they'd fallen out, or if they'd just lost contact.
She half-arsedly scraped some paper of the wall.
"How do you lose contact with family?"
She scraped some more.
"Why isn't my boyfriend here to help me?" She pouted. "I'm surrounded by useless men"
She scraped some more paper off the wall, falling into a rhythm, focusing on the sound of her breathing. Letting her mind focus on the action of-
2 hours had passed.
"What… Wow. I totally got into that." She was aware that the was talking out loud to herself because she hadn't spoken to anyone for at least a day and a half, and – for some reason – didn't want other voices of TV or Radio to keep her company.
"The last thing I need is the time suck of soap, soap, quiz show, 70's detective, kid's TV." She frowned again, leaning against the ladder in conversation with herself, in her head. "Not that I'd watch kid's TV. The first show is always pre-schoolers anyway." She blushed. "I assume… Anyway – it's then I'd start work, and 20 minutes after that wonder what's for dinner and have to go shopping and then it'd be too late for decorating and. No. Better the silence."
She scrapped a little more.
"What is for…" she craned her neck and looked at the clock. It was 12:30. "It'd be lunch, then. I suppose I should shower before I leave. And…look -" She gestured at the walls for herself to admire. "I've done a couple of walls."
She kicked at some paper on the floor, knowing she was slacking off.
"Fuck it. Shower and a salad." She turned away from the wall before yelling, "STOP!"
She froze.
"Showertime!" And danced to the bathroom.
***
In incredibly efficient shower later, she left the house in search of food.
She was 2 steps from her door when she heard the phone ring.
"Grrrr." She paused. No. She procrastinated. She was out. In the fresh air. The buzz of traffic, the allure of shopping. All that inside held was the Walls of Half Finished Scraping.
"If it's important, they'll call back."
***
Steven called 5 times in the next 5 minutes before finally hanging up.
He'd try again later, and hope it wasn't too late.
***
Today's photo was supplied by Trine Petersen.